Thank you to all of the amazing teams that came out to make our 2022 Spring Season our biggest season yet!
We cannot wait to see you next year!
Head to the bottom of the page to see some nice feedback from our participants.
Here are the champions from each division. Congratulations to you all!
SANTA PAULA FC XTREME – B2015 BRONZE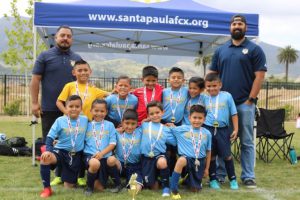 OXNARD UNITED – B2014 SILVER

ZERO GRAVITY – B2014 BRONZE
ESPERANZA – B2013 SILVER

SBSC White – B2013 BRONZE

OXNARD KICKERS JALISCO – B2012 SILVER

NPSC LIONS – B2012 BRONZE
VC FUSION – B2011 SILVER ELITE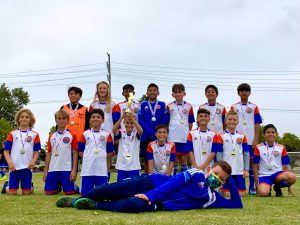 SBSC ELITE – B2011 BRONZE
ZERO GRAVITY – G2014 BRONZE

ZERO GRAVITY INVICTUS – G2013 BRONZE

ZERO GRAVITY – G2012 BRONZE

OXNARD WAVE – G2011 BRONZE

SPFC XTREME CANDELARIO – G2010 BRONZE

NPSC FURY – G2009 SILVER

CALIFORNIA UNITED BLACK – G2008 SILVER
SANTA PAULA XTREME – G2008 BRONZE

OXNARD UNITED – G2005 GOLD
                    
Here are some of the nice words we received from our Spring 2022 participants.
Thank you to all of the hard-working coaches, managers, and parents!
"Thank you Christelle for all your hard work and for creating an opportunity for our girls to play with very competitive teams locally.  This is such a nice option for our team. We both recognize and appreciate all the work you do and that NPSC puts into making it happen. We are grateful."

-Sam Gasowski (CVU G2011 Silver)
"Thank you so much for allowing both of my teams to play and being so flexible with the schedules. I thank you so much for everything. You have a great year!"

-Michael Hernandez (Oxnard United G2005 G2014)
"Thank you Christelle for your hard work!  I think you guys did great! ⚽️"
-Natalie Tupper (SB G2012 White)
" You were amazing and I thank you for all your hard work and dedication to these kids and the sport."
-Annie Dyess
"It's was a great season and we will be back next season with our 2013 Girls ZeroGravity team."
-Matthew Figueroa (G2013 Zerogravity)
"Our boys really enjoyed the playing time and I very much appreciated all the time, effort and work that you and your organization put in to make this a very fun Spring League. A big thank you from the bottom of my heart. Merci beaucoup! Grazie mille!"
-Folco Faraoni (SBSC B2011 Silver Elite)
"Thank Christelle,  this was a fantastic spring league.  I appreciate all your hard work and dedication.  It was a great experience and allowed me to work with my team while not having the pressure of a CSL fall season. I look forward to seeing you again next spring. "
-Coach Silas