Hello everyone, here is our week end
12 GAMES: 6 WINS, 2 LOST AND 4 TIE WITH 39 GOALS SCORE FOR 23 AGAINST
TEAM OF THE WEEK
Phoenix 3rd G2010 Silver vs Oxnard Real 1st WIN 2 – 1 
Phoenix still have the chance to reach the 2nd place now if only they can win they last two games and counting on Oxnard to beat CVU. Oxnard who was 1st team place undefeated last week and now lose two games in the row. Phoenix play so well and really deserve that victory. Great job Phoenix 2 more games:)))))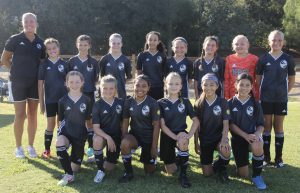 End of the season for 4 of our teams this week end
VENOM 3RD B2014 Bronze finish with a win 4 – 2!
CVU Red 7th and last team place away. Venom didn't got the chance to play CVU has their forfeit their first game. Great season for Venom who finish with a total of 8 wins, 3 loses, 58 goals vs 20 against… The 2nd part of the season was better with 4 wins and 2 loses vs 5 wins and 1 lost only. Next year Venom will move to Silver:) CONGRATULATION COACH BLAI AND KEVIN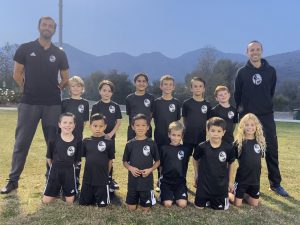 THUNDER 8TH B2012 Bronze lost their last game 7 – 0
Moorpark 4th at home. Thunder progress some much this year and remember that they are playing up, 1st half of the season Thunder lost 0 – 16 vs Moorpark so HUGE improvement. No win this season but Thunder manage to take 20 less goal against…. Great job coach Edgar, can not wait to see that team play their own age group next season
DRAGONS 4TH B2011 Bronze finish with a tie 3 – 3
Sporting So Cal 2nd away. This is an amazing 5 games in the row undefeated for Dragons who is a wonderful 4th team place with a record in the 1st part of the season of 2 wins 13 goals and 16 against, while the 2nd part of the season was 4 wins, 1 tie and 1 lost for 19 goals and 11 against. So improvement everywhere for Dragons. Finishing with a tie vs Sporting was just cherry on top of the cake as now Sporting as to share their 1st place at least…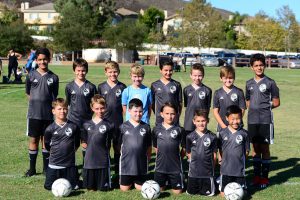 FURY 3RD G2009 SILVER finish with a tie 1 – 1
CCA SBSC 9th away. playing with 4 Phoenix (G2010) Fury amazingly tie 1 – 1 and stay in the podium for this season by finishing 3rd. With a tie from Albion, Cobras also finish in the 4th place in that same bracket. CONGRATULATION TO COACH JOSUE AND FURY AND CONGRATULATIONS TO COACH PAUL, GREG AND FURY FOR THIS GREAT SEASON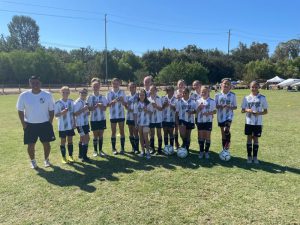 OTHER GAMES
Sharks 6th B2008 Bronze vs Moorpark 3rd on Saturday at 8:00 Away: WON 3 – 0
Last month, Sharks lead 2 – 0 and 3 – 1 before losing 3 – 4. This time Sharks keep the score and should score even more:)
Titans 1st B2010 Bronze vs CVU Red 6th on Saturday at 8:00 Home: TIE 1 – 1
Despite a wonderful play of soccer, great corners, great passes, great crosses, Titans didn't find the net more than one:( Titans might lose their 1st place today and will have to wait December 11th to see where they are finish…
Infinity 3rd G2011 Bronze vs MSA FC 7th on Saturday at 8:00 Away: WON 5 – 1 
11 pos difference with the 4th team place with that victory and what a win!!! 5 – 1 with a wonderful soccer:). Great job girls
Tigers 3rd B2012 Bronze vs CVU Black 7th on Saturday at 8:00 Away: WIN 12 – 1
One more game to go for Tigers. There are not the easier game of the season despite the standing. Tigers start strong the game which is didn't give any chance to CVU to hope anything. Valley united beat United in the same time which mean that Tigers need to win their last game to finish 2nd 🙂
Lightning 3rd G2010 Silver Elite vs SBSC Elite 7th on Saturday at 11:00 Away: Tie 3 – 3
With this tie, Lightning leave Fury take 3 pos in front for the 2nd place. they still have 2 more games to play while Lightning only have 1 more game.
Lightning 1/4 finale and 1/2 finale
Sunday vs Chivas soccer 2nd Bronze at 12:30 at Inland  lightning won their 1/4 finale 3 – 1 but then lost their semi finale 1 – 2 vs Fury FC who is actually right in front of them for the 2nd place in their silver elite bracket…:(
STANDING
CONGRATULATIONS TO OUR NPSC PODIUM 
2ND:
VIPERS G2005 GOLD
3RD:
PREDATORS G2007 GOLD
FURY G2009 SILVER
VENOM B2014 BRONZE
STILL PLAYING
2ND
TIGERS B2012 BRONZE
TITANS B2010 BRONZE
3RD
INFINITY G2011 BRONZE
LIGHTNING G2010 SILVER ELITE
PHOENIX G2010 SILVER
9 TEAMS OUT OF 14 ARE IN THE PODIUM AND 2 OF THEM FINISH 4TH
🙂
COBRAS G2009 SILVER
DRAGONS B2011 BRONZE
GREAT JOB EVERYTHING AND FEWS MORE GAMES LET S FINISH STRONG