16 games total this week end:   7 wins, 1 tie. and   6 loses.  29  NPSC Goals for.  14 against.
Total of the season is 70 wins, 17 ties, 50 loses. 338 NP Goals and 288 against for a total of 135
END OF THE SEASON FOR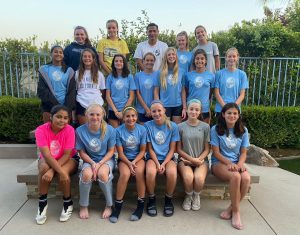 Predators G2017 Gold finish 3rd:   👏.  

🙌.    
Amazing season for Predators knowing that before COVID, Predators were in Silver. Promoting to Gold and finish with 6 wins and 3 losses with 16 goals score and only 10 taking. Predators was the only team who beat CVSC Real who finish Champion of the bracket with 8 victories and 1 lost…
Congratulations
 Coaches Josue and Blai for this podium.. We will be following your players during your high school season.
STARS OF THE WEEK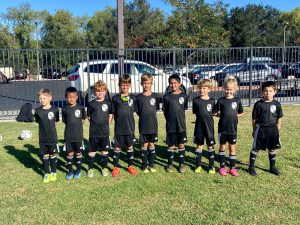 Venom B2014 3rd Bronze: 
We have to place that team again this week as Stars of the week because of the progression they make during this month. After beating the only undefeating team in their braket last week, Venom was facing Fusion who give them a hard time last month (win 3-2) But Saturday it was no question 4 – 0. The passing and the individual skills of those players are incredible to see. Great job Coach Blai and coach Kevin.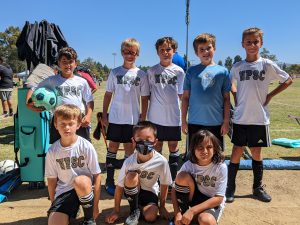 Thunder B2012 8th Bronze: Lost 1 – 3 vs CVU blue. We are so proud of team Thunder and their incredible hard work and development over the last few months.  We started the season with our first game as 14-0 and now they are getting more and more competitive each week.  This last week Team Thunder scored our first in game goal and ended the game at 3-1, we didn't win, but it was a gripping game.  It's been fun to see such awesome progression….go Thunder!!  Cristina Manager
OTHERS RESULTS
Phoenix 3rd G2010 Silver:
Won an important game vs United White 4th 1 – 0. Which push their opponent 5 points away from the podium. Phoenix can watch in front now as tthey are 3 points away from the 2nd place. If Oxnard United seems to be untouchable for the 1st place, witth 5 games to play, Phoenix can hope for the 2nd
🙂
Tigers 2nd B2012 bronze Won 6 – 0 vs MSA. 4 games left and Tigers have 5 points in front the 4th team place. Next week they will play vs Valley United 1st, team who lost only 2pts this season against….Tigers.
Titans 1st B2010 Bronze Tie 0 – 0 vs Xolos Academy 4th. Its 2 points lost for Titans and hopefully they will be back on victory mode next week vs Moopark 3rd.
Dragons 4th B2012 Bronze:  Won 5 – 2 vs GVFC Union 5th. 2 wins in the row for our Dragons who didnt play a great soccer but aggressive on the ball and together. Dragons have 5 points in front the 5th place team and 4 pts behind the podium. Which they will got the chance to reduce at 1 pt next week while meeting Fc united 3rd… Go Dragons
Fury 3rd G2009 Silver: Lost 0 -1 vs Tsunami 2nd. Coach Josue was really happy about the performance of his team. He reconize that Fury didnt have chance of some of the opportunity but really like the game and the opponent as well…
Sharks 7th B2008 Bronze:  Lost 3 – 4 vs BF310. Not that much luck here for Sharks. 1st half was a lose. 1-4 agaisnt the sun. Second half sun desappear completely and Sharks was able to score two more goals but touched a total of 3 top bar…:(
Lightning 2nd G2010 Silver Elite Win 3 – 0 vs Celtic 9th. Lightning reach the podium this week, as United Ci tie in the same time. 2nd place will be hard to get as there are 7 points difference (1 more game for Fury FC) but still hard to reach. So Lightning will have to be focus on that 3rd place.
Vipers 2nd G2005 Gold: Win on Saturday 2 – 0 vs Warriors 9th and lost on Sunday 0 – 1 vs Condors 5th. Vipers still 2nd place with 2 little points in front 2 teams but with one more game so they can lose the podium on their last game.
Cobras 5th G2000 Silver Win 3 – 0 vs Roadrunner at Bakersfield. Great results from Cobras who move up from 7th to 5th in a bracket who each team can beat everyone.
LEAGUE CUP
Lightning 3rd G2010 Silver Elite:   GO THRU!!!
Won 0 – 0  vs Palm Desert fc 2nd Bronze
Won 3 – 0  vs Legend IE 2nd Silver
STANDING
9 out 14 NPSC teams are in the podium.
Lightning is joining the podium this week
🙂
1st:   Titans
2nd:  Tigers, Vipers
3rd:   Venom, Phoenix, Predators, Fury, Lightning, Infinity
UNDEFEATED
​Titans still there this week end. Lets go Titans lets finish stronger…