Wonderful day for NPSC: we had 6 games play for 
4 wins - 1 tie and 1  lost

1 champion - 1 second place and 3 third place adding to our record this season
TEAM OF THE WEEK
CSL CHAMPION BRONZE CENTRAL
NPSC TITANS B2010 :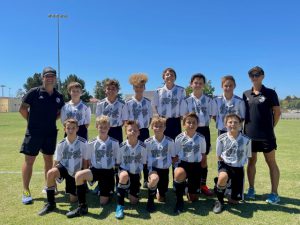 THEY DID IT!!  Simi premier and Moorpark played at 8:00 and tie 2 – 2 which was the only result Titans was hoping In order to be Champion! Now Titans knew and need a win vs FC United Real 8th and they did : 8-2. Wonderful 1st season in club finish undefeated with 8 Wins and 6 Ties, 31 Goals for 13 against (best defense). Same number of pts in the 1st hand and 2nd but more goals score (17 against 14 and 3 less goals score against them 5 vs 8 in the 1st hand) Congratulations Titans, Coach Jamie and Coach Ryan.
LAST GAME OF THE SEASON
Lightning  3rd G2010 Silver Elite vs Fury FC 2nd Home: Win 2 – 0. It might not be enough to finish 2nd place as Fury FC still have one more game to play vs the 8th team place next weekend. As always Lightning finish strong with 4 wins and 1 tie in their last 5 games of the season (while the first 7 games end up with a 3W-1T and 3L). Total record of 7w-3L-2T 33 goals for 26 against. Great job Coach Alvaro and Coach Tim.
Tigers 2nd B2012 Bronze vs CVU Blue 5th Away: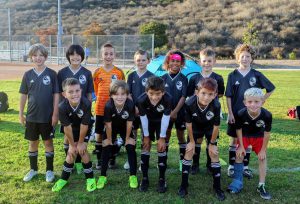 Won 10 – 0 Unfortunately no Championship for Tigers. A lot of regret knowing that they tie and win the actual champion and the 2 loses this season was due to referee who didn't know the rule… In the mind of the coach, they are Champion:).  Finish the season wit. a record of 11W-2L-1T and 90 Goals for 16 against. Congratulation Tigers and coaches Christelle and Kevin to move up to Silver Next year
Sharks 6th B2008 Bronze vs Barcelona 7th Away Lost their last game of the season 1-2 after win the first half 1-0. So a bit disappointed  for our Sharks.
OTHER GAMES
Infinity 3rd G2011 Bronze vs Eagles 2nd Away: Tie 2 – 2. Great game for our Infinity who lost 0 -3 last month against the same team. For sure Infinity will be 3rd with a min mum of 9pts in front the 4th team place. Infinity need to play one more game vs the 1st team place next week but definitely a great season for our little one.
Phoenix 3rd G2010 Silver vs United White 4th Home: A sad 1-1 for our Phoenix who didn't took the advantage of their wonderful victory last game vs the 1st team place. with one more game left, they also lose the chance to finish in the 2nd position and will stay 3rd no matter what is the result of that last game
STANDING
CONGRATULATIONS TO OUR NPSC PODIUM 
CHAMPION:    TITANS Bronze will move up to Silver
2ND:                   VIPERS G2005 GOLD and TIGERS B2012 Bronze will move up to Silver
3RD:                    PREDATORS G2007 GOLD,         FURY G2009 SILVER,      VENOM B2014 Bronze will move up to Silver         INFINITY G2012 (PLAY UP 2011) will move up to Silver Elite G2012,           LIGHTNING G2010 Silver Elite.         PHOENIX G2010 Silver will move up to Silver Elite
9 TEAMS OUT OF 14 ARE IN THE PODIUM  

🙂
Congratulations to  COBRAS G2009 SILVER and  DRAGONS B2011 BRONZE who finish in 4th
GREAT JOB EVERYONE